Erik Palm is an award-winning journalist who has produced news stories, including features and investigative documentaries for major national TV and radio channels in Sweden, including SVT, SR, Dagens Industri, and TV4. During the spring of 2009 he also worked for U.S. media outlet CNET News, which is published by CBS.
He produced the investigative SVT-documentary about Carema, "Vi gav dom vår pappa - We gave them our dad" which revealed improper care methods where the elderly residents had been neglected while managers focused on cutting costs to get bonuses and gave false reports on staffing levels. Three managers at Carema got fired during the investigation. Here is a news article about the film in English. The film led to a national debate about Private Equity owned nursing home chains. In 2013 Erik released a book based on his films that got great reviews.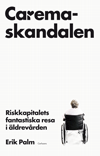 Caremaskandalen - riskkapitalets fantastiska resa i äldrevården ISBN 978 91 7331 538 8
He was researcher in an investigative SVT-project about IKEA, "Made in Sweden" Erik found the trust in Liechtenstein that controls the company. The Interogo trust was a secret for decades that many international investigative teams had failed to reveal. The film was IRE awards finalist and won a silver medal at silver medal at New York festivals.
IRE awards finalist and won silver medel at New York festivals.
He has investigated H&M's' tax planning in developing countries. And Philip Morris lobbying and secret marketing methods. And many other topics in foremost the business world.
With his unique network in Scandinavia, Europe, Asia, and Silicon Valley, he takes assignments from print, online and broadcast media, primarily as a reporter or producer.
Erik has an Protools radio-editing system and ENG gear for TV and radio reporting. He can produce articles and reportage in Swedish and English, and take still photographs. Erik also can do interviews and read materials in German and French.
Sample work:.

For a reel, clips, and other questions please contact me.